Technology
Apple VisionPro: An In-Depth Look at Apple's New AR/VR Headset
Discover the Apple VisionPro, a groundbreaking AR/VR headset. From eye and hand tracking to immersive experiences, explore its features and potential impact.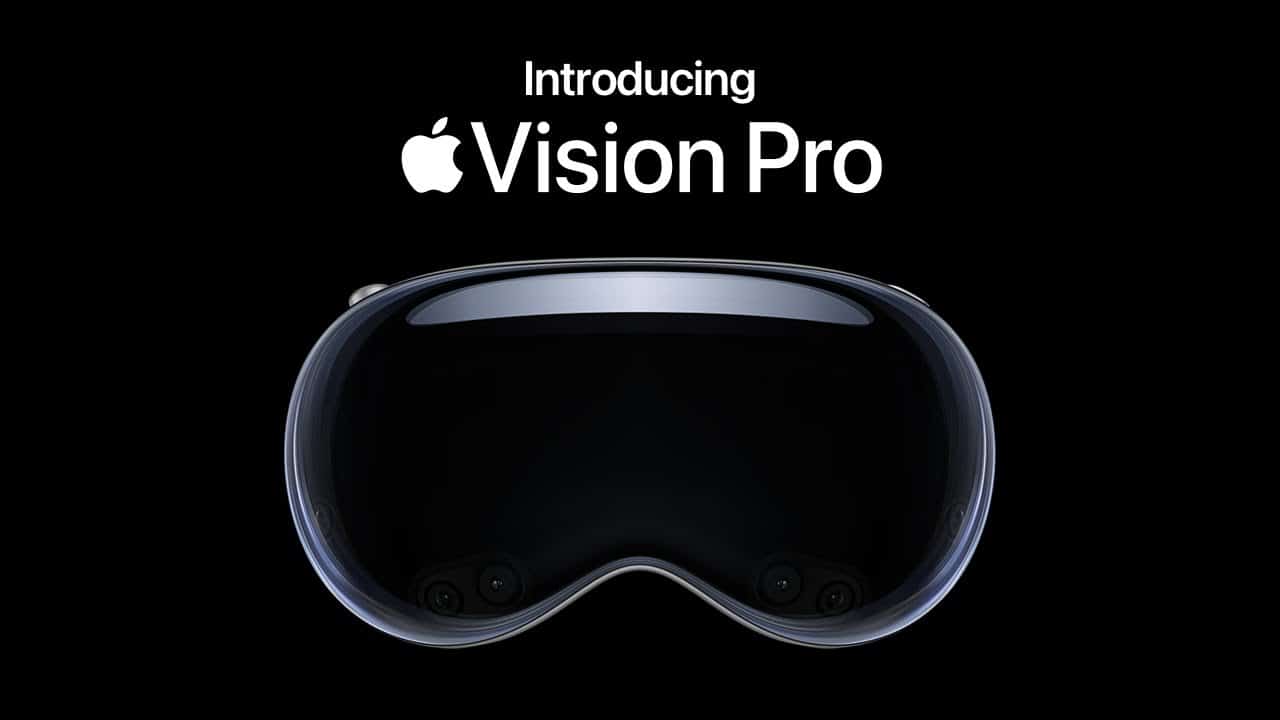 Apple has introduced its groundbreaking AR/VR headset, called Apple VisionPro. AR/VR is a trending technology. This first-generation device combines augmented reality and virtual reality technologies, boasting a range of cameras and sensors. Priced at $3,500, the headset operates independently from iPhones or Macs, featuring its own M2 Chip, Wi-Fi connection, and micro OLED displays. In this article, we will delve into the key aspects of Apple's new headset, including its design, functionality, and potential applications.
Design & Features
Standalone Device with Advanced Sensors: The Apple VisionPro is a standalone computer, unlike most headsets that rely on external devices for processing. It incorporates numerous sensors, including forward-facing, downward-facing, and side-facing cameras, infrared illuminators, a LIDAR scanner, and a TrueDepth camera. These sensors enable comprehensive tracking of the user's environment and hand movements.
Customized Fit: Before using the headset, users undergo a face-scanning process with the TrueDepth camera on their iPhones. This information is utilized to create a custom cutout, ensuring a comfortable and secure fit. Additionally, the headset features breathable fabric and durable metal and glass construction.
Revolutionary Eye Tracking: The most remarkable feature of the Apple VisionPro is its eye tracking capability. The eye tracking technology accurately monitors eye movements, enabling precise selection and highlighting of objects within the user interface. Users can effortlessly interact with the virtual environment by looking at and clicking on items using hand gestures.
Intuitive Hand Gestures: Apple's headset does not require traditional controllers. Instead, users control the device entirely with their hands and eyes. By touching their fingers together, users can select objects or perform actions. The headset's extensive array of sensors ensures accurate hand tracking, allowing users to interact with virtual elements effortlessly.
Functionality
Computing Capabilities: The Apple VisionPro serves as a computer on its own, enabling web browsing and other computing tasks. The headset features 4K windows that users can manipulate using hand gestures. It operates on Vision OS, a dedicated operating system similar to iPad OS, offering a familiar touch-based interaction.
Seamless Integration with Mac: Users with Mac computers can leverage the VisionPro headset to mirror their Mac's display within the headset. By connecting a Bluetooth keyboard and trackpad, users can work on their Mac as if they were using a larger screen. This functionality provides an immersive computing experience.
Communication and Messaging: The headset supports messaging capabilities, allowing users to type and send messages as they would on a regular computer. Additionally, FaceTime is available, offering a unique experience with 3D-rendered models that replicate users' facial movements, synced with the headset's sensors.
Immersive Content Consumption: The VisionPro headset is optimized for consuming various forms of content. Users can watch movies, sports events, or VR games with impressive image quality and resolution. The headset creates a theater-like experience, allowing users to enjoy multimedia content with enhanced immersion.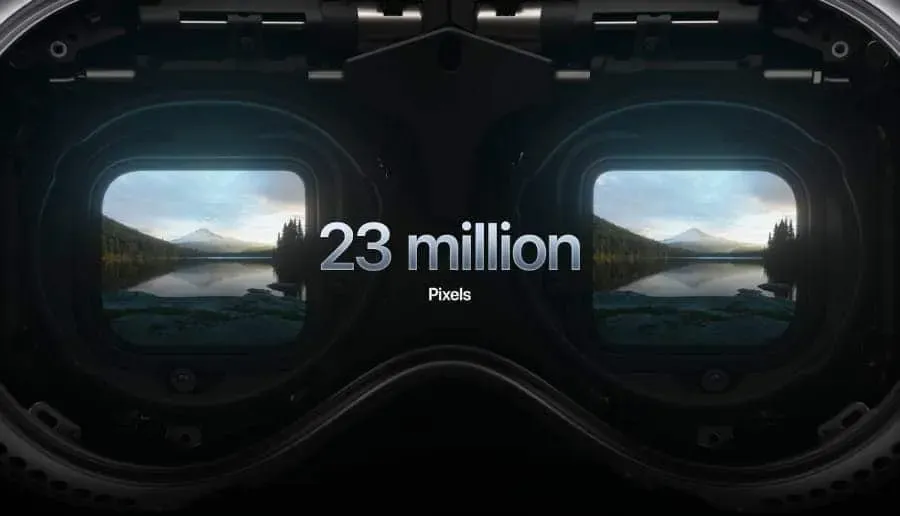 Applications & Implications
Entertainment: The VisionPro headset presents exciting opportunities for immersive entertainment experiences. Users can enjoy VR games, watch movies in a virtual theater, and potentially access live sports events with a front-row view. Content creators and major studios can collaborate with Apple to develop captivating experiences tailored for the headset.
Professional Use Cases: The headset's computing capabilities and seamless Mac integration make it suitable for professionals. Architects, designers, and other creative professionals can leverage the headset's immersive capabilities for visualizing and interacting with 3D models, enhancing their workflow and productivity.
Development Opportunities: Apple intends to create an ecosystem for developers to build apps specifically for the VisionPro headset. By harnessing the eye and hand tracking features, developers can create innovative applications and games that maximize the headset's unique capabilities.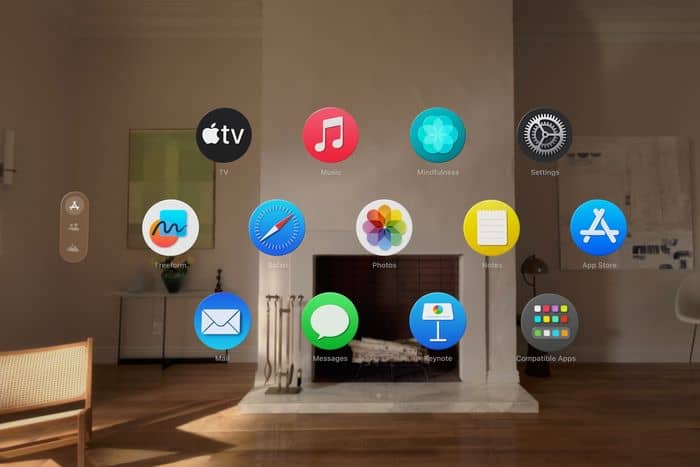 Highlights
Specifications & Design
Standalone Device: The Apple VisionPro is a standalone computer operating on the Vision OS with its own M2 Chip.
Display: It features a high-resolution micro OLED display with approximately 4K resolution for each eye.
Audio: Equipped with speakers placed above each ear on the band, providing an immersive audio experience.
Sensors and Cameras: The headset includes multiple forward-facing and downward-facing cameras, side cameras, infrared illuminators, a lidar scanner, and a TrueDepth camera.
Eye Tracking: The most impressive feature of the device is its advanced eye tracking technology, allowing users to control the interface by simply moving their eyes.
Custom Fit: Users can scan their faces using the TrueDepth camera on their iPhone to obtain a custom-fit headset. Additionally, Zeiss lenses are available for users with glasses.
Meshing and Build Quality: The Apple VisionPro boasts a well-built design with metal and glass components, complemented by breathable fabric meshing at the back.
Functionality
Control Mechanism: Unlike other headsets, the Apple VisionPro does not require external controllers. Users interact with the interface using their hands, eyes, and voice commands.
Sensor Array: The headset features an extensive array of sensors, enabling precise hand tracking, environment detection, and eye tracking capabilities.
UI Navigation: By looking at different elements on the screen, users can highlight and select them with ease. To make a selection, users can simply touch their fingers together.
Calibration Process: Before using the headset, users must complete a calibration process by looking at various dots, allowing the system to learn their eye movements and gestures.
Typing and Voice Control: Users can input text by looking at the text box, which activates a virtual keyboard. Alternatively, they can speak into the headset's built-in microphones for voice recognition.
Optic ID: The headset uses optic ID technology to authenticate users based on their unique biometric eye patterns, eliminating the need for traditional logins.
Transparent Appearance: The headset employs a 2-way pass-through system, where an OLED screen facing outward creates the illusion of transparency. This display mode allows users to see their environment without removing the headset.
Computing, Content & Connectivity
Computing Power: The Apple VisionPro functions as its own computer, enabling web browsing and other computing tasks. It operates on the Vision OS, which resembles iPad OS in terms of touch interaction.
Mac Integration: Users can mirror their Mac's display in one of the 4K windows on the headset, allowing them to interact with Mac OS applications using a Bluetooth keyboard and trackpad.
Messaging and FaceTime: The headset supports messaging and FaceTime, providing users with a unique floating window experience for communication.
Content Consumption: Users can enjoy a range of content on the headset, including VR games, videos, and movies. The high-resolution display and comfortable viewing experience make it suitable for extended content consumption sessions.
3D Photos and Videos: The built-in cameras enable users to capture 3D photos and videos, creating an immersive experience for reliving memories.
Pros & Limitation
Impressive Eye and Hand Tracking: The eye tracking feature of the Apple VisionPro is exceptionally accurate and responsive. Hand tracking is also precise, allowing users to interact with the interface effortlessly.
Selective Rendering: The headset utilizes selective rendering based on eye tracking, optimizing performance by focusing computing power on the user's field of view.
High-Quality Display: The 4K micro OLED display offers sharp visuals, and the selective rendering helps conserve power and reduce eye fatigue.
Integration with Apple Ecosystem: The Apple VisionPro seamlessly integrates with other Apple devices, such as iPhones and Macs, providing a cohesive user experience.
Limited Battery Life: The headset has a battery life of approximately two hours, which may be insufficient for extended usage. However, users can connect a proprietary battery bank to extend the runtime.
Weight and Comfort: Due to its metal and glass construction, the Apple VisionPro is relatively heavy, potentially causing discomfort during prolonged use.
Conclusion
While the Apple VisionPro AR/VR headset carries a premium price tag and targets early adopters, it represents a significant AR/VR technology leap. Its advanced sensors, intuitive interaction methods, and customized fit set it apart from existing headsets. As developers explore its potential and create engaging applications, the future iterations of VisionPro have the potential to become more accessible to a broader audience.
Hannah Adam - Perspective
Alright, let's begin. Today, I tried out Apple's new Mixed Reality Headset, the Vision Pro, and here's my viewpoint. I hope you all find Bob and my insights on Apple's latest product Vision Pro helpful.
Unfortunately, I couldn't capture any photos or videos during the experience. But I have some exciting and not-so-great news to share with you. The good news is that I could wear the headset for about 30 minutes and explore its features. The headset is primarily designed to bring digital objects into the real world, which impressed me. However, Apple strictly prohibited filming while wearing the headset, so we could only capture footage of it placed on a table. Nonetheless, let's dive into my experience.
When it comes to wearing the Vision Pro, it felt quite interesting. It was like Apple took a giant Apple Watch and attached it to my head but surprisingly comfortable. The headband resembled a sock and was easy to put on and adjust using the knob to find the right fit. During the first 15 minutes, I couldn't believe how comfortable it was, surpassing the Meta Quests Pro and the Quest 2. The battery pack, attached to the headset, was lightweight and conveniently placed in my back pocket, although having all that technology on my face did start to feel heavy on my nose and forehead towards the end of the demo. Apple mentioned that the limited-sized light seals might have caused the discomfort, but they promised more options when the device is released next year.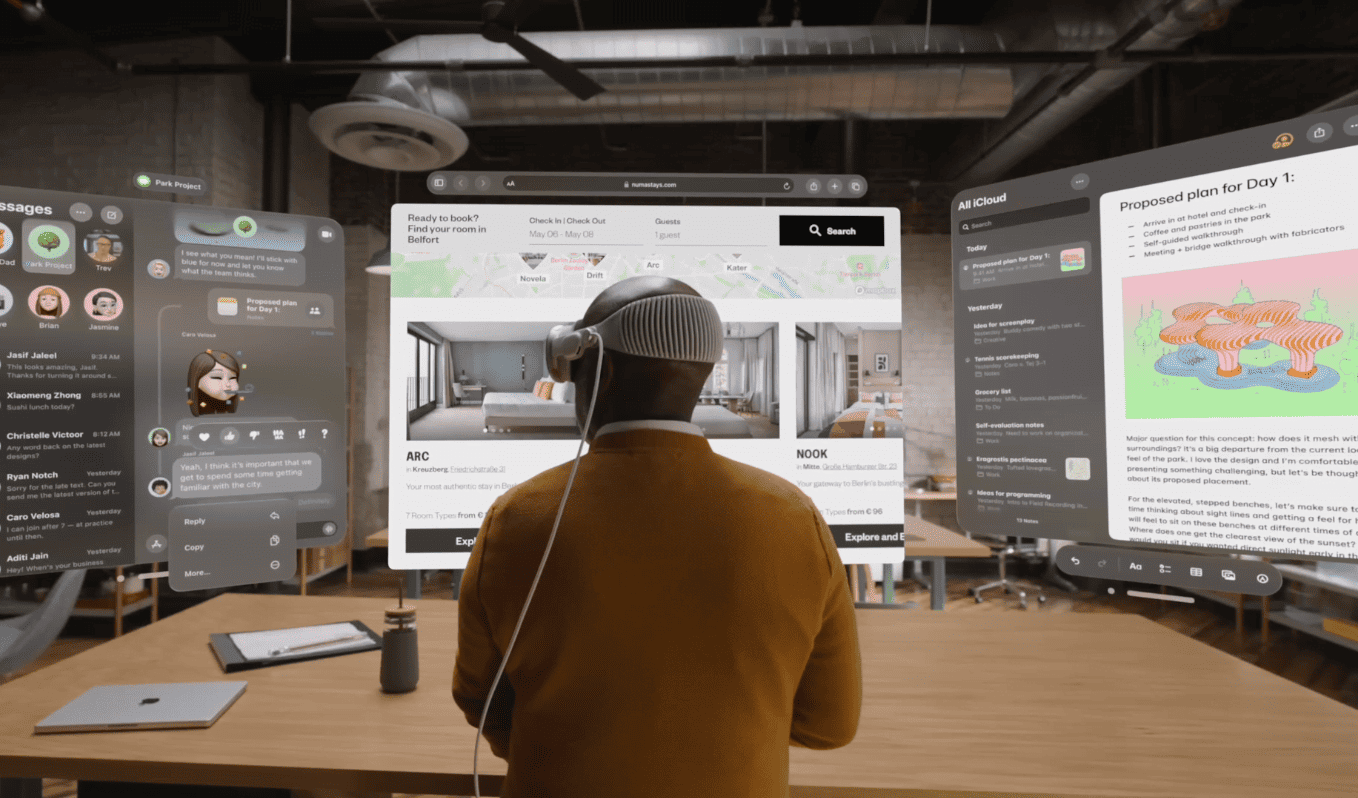 Now, let's talk about what it was like looking through the headset. The experience was mind-blowing, especially compared to other headsets on the market. Apple's main focus with the Vision Pro is to blend the digital world with reality seamlessly. With a simple twist of the digital crown, you can toggle between a virtual reality (VR) experience and an augmented reality (AR) experience. By spinning the crown, you can adjust the amount of real-world visibility. Pressing the button takes you to the home screen, and everything works smoothly. Furthermore, the real-world visuals looked sharp and clear, in stark contrast to the grainy appearance of the Meta Quests Pro. However, I must admit that switching back and forth between AR and VR did leave me slightly queasy, although it wasn't to the point of feeling nauseous.
Unlike other VR headsets, the Vision Pro doesn't rely on controllers. Instead, your eyes act as the cursor, and your fingers act as mouse buttons. You can select things by pinching and scroll by moving your fingers in different directions. One of the most astonishing aspects is the front screen, which allows others to see your eyes. Although I didn't personally test this feature, we created a mock-up in Photoshop to demonstrate its potential.
Now, let's explore what you can do with the Vision Pro. During the demo, I had the opportunity to scatter a few apps in the virtual space, eliminating the need for multiple monitors. These virtual screens could be positioned around the room for convenient access. Additionally, I engaged in a FaceTime chat with an Apple employee, but instead of a traditional video, her 3D hologram appeared before me. While on the call, she launched a presentation we collaborated on. One of the coolest features was the ability to view 3D spatial photos and videos. The headset has a dedicated button on the top left for capturing these immersive visuals, although I couldn't personally test it. I also had the chance to watch a 3D movie clip, which was truly captivating.
Do we need more applications for the Vision Pro, especially considering its hefty price tag of $3,500? Honestly, the answer is yes. However, Apple's strategy is to release it to developers early so they can come up with innovative experiences. Will everyone rush to buy it when it hits the market next year? Probably not. Yet, Apple's vision of spatial computing and integrating digital elements into our real world truly feels like the next big thing, even if it currently gives off a slightly dystopian and isolating vibe.
I'm looking forward to trying the Vision Pro again and filming what's happening instead of resorting to this workaround.